Photo courtesy Abigail Alvarez
---
On World Suicide Prevention Awareness Day, Pathways Center and AnotherWay Foundation ensured that no one walks alone.
Pathways, a local behavioral healthcare organization, and AnotherWay, a non-profit organization supporting mental health services, organized the National Suicide Prevention Awareness Walk and Coping Skills Fair "Nobody walk alone" on September 10.
World Suicide Prevention Day was established in 2003 by the International Association for Suicide Prevention, in collaboration with the World Health Organization. Its goal is to focus efforts on reducing suicides, removing the stigma surrounding mental health issues, and raising awareness among organizations, governments, and the public.
More than 700,000 people worldwide die by suicide each year, according to the WHO, which estimates that for every person who successfully commits suicide, 20 others make an attempt and countless others consider suicide.
According to www.who.int, millions of people suffer intense grief or are otherwise deeply affected by suicidal behavior.
"Every suicidal death is a public health issue with a profound impact on those around them," the website states. "By raising awareness, reducing the stigma around suicide, and encouraging well-informed action, we can reduce the incidence of suicide around the world."
"No One Walks Alone" took place on the LINC, with local nonprofits hosting various adaptation stations along the route. They included Backstreet Arts (art therapy and Drum Circle), More Music Foundation (music therapy), Coweta Family Connections (horticulture), YMCA (yoga and mindfulness), and Advanced Health and Wellness (massages).
The walk was organized by Abigail Alvarez, director of client engagement at the Pathways Center, to raise funds for mental health treatment and educate people about issues surrounding suicide, one of the leading causes of death. in the USA.
"We wanted to host a fun, family-friendly event that would serve as a conversation starter for families to talk about suicide," Alvarez said. "(It also) gave practical and easily accessible examples of coping skills that can be used at home when thoughts of anxiety, depression and suicide begin to creep in."
Over 300 people attended the event, which raised over $11,000 to be used in 2023 to help offset the cost of mental health treatment for people in the community who cannot afford to to heal.
The Suicide Prevention Action Network attended the march and representatives handed out beads that represented their relationship to suicide – loss of child, loss of spouse, loss of friend, support and personal struggle all had an identified color.
Within the first hour, all green beads – a color representing a personal struggle against suicide – had been distributed. Alvarez said she is "so proud of everyone who has had the courage to wear this color and start removing the stigma behind such a pervasive issue."
The Honored Trail gave participants the opportunity to remember, mourn and honor loved ones who died by suicide by placing flags with their names along the walk.
Alvarez said the Pathways Center plans to host "No One Walks Alone" annually and continue to raise suicide awareness.
For more information, visit www.pathwayscsb.org.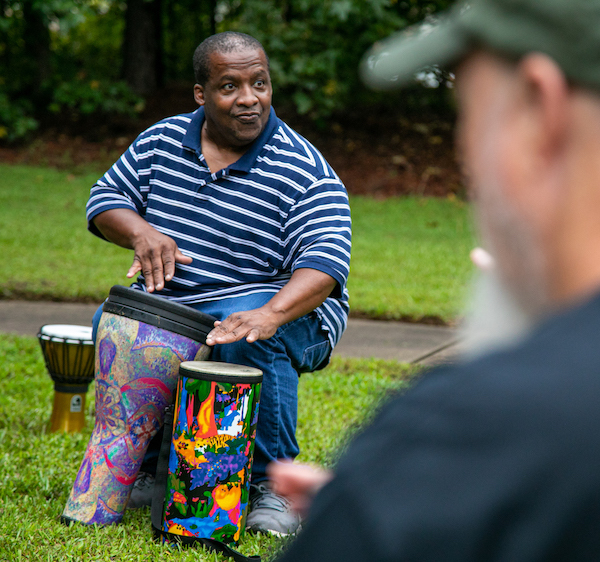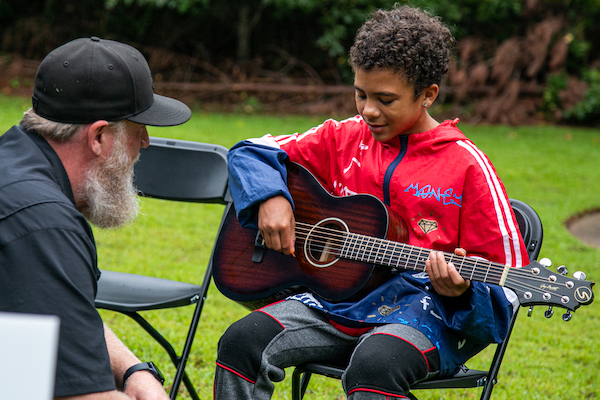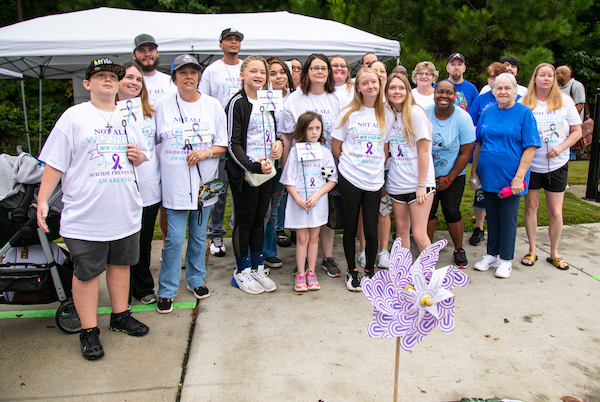 Photos courtesy of Abigail Alvarez